I. FUNCTIONS
- Being in charge of scientific activities, scientific research, international cooperation of the Institute. Planning scientific research, managing and monitoring the progress of projects, organizing the approval of proposals, evaluating and accepting scientific research topics. Acting as a permanent member of the Institute's Science and Technology Council
- Managing and implementing international cooperation activities with organizations and countries on scientific research and disease prevention.
- By January, 2012, The Ministry of Health has appraised and recognized that the Institute has qualified for continuous training for health officials and issued a code of certification for continuous training in malaria, parasites, insects and preventive measures (Training code is B46)
II. RESULT OF ACTIVITIES
II.1. Scientific research activities
From 1975 to 2019, the Bureau of training and scientific management has accomplish 206 scientific research projects at all levels, including 04 ministerial-level projects, 01 research project in collaboration with the Department of Science and Technology of Ho Chi Minh City and 20 activities in collaboration with the World Health Organization; 02 projects in cooperation with the Institute of Tropical Biology in HCM city and 179 institutional - level research projects. The Bureau has promoted scientific research projects in conjunction with the domestic and foreign science and technology organizations such as: World Health Organization, Oxford University Clinical Research Unit, UPPSALA University Sweden, International Organization for Migration, Institute of Tropical Biology, University of Medicine and Pharmacy in HCM city, Nguyen Tat Thanh University, Ton Duc Thang University…, The Bureau has also cooperated with organizations, countries in the region to organize training courses, conferences, scientific seminars, and exchange experiences in specialized fields in accordance with the law.
In 2018, the ministerial-level project "Determining species composition, circulation of pathogens and proposing a procedure for monitoring a number of medical arthropods in the southern region - Lam Dong" has been accepted and classified excellently.
Actively developing plans to exploit aid resources, invest in scientific research, training staff, provide equipment with individuals and foreign organizations. Cooperating with scientific research agencies, international organizations, governmental and non-governmental organizations in the region and over the world in scientific research and application of scientific achievements for preventing malaria, diseases transmitted by parasites and insects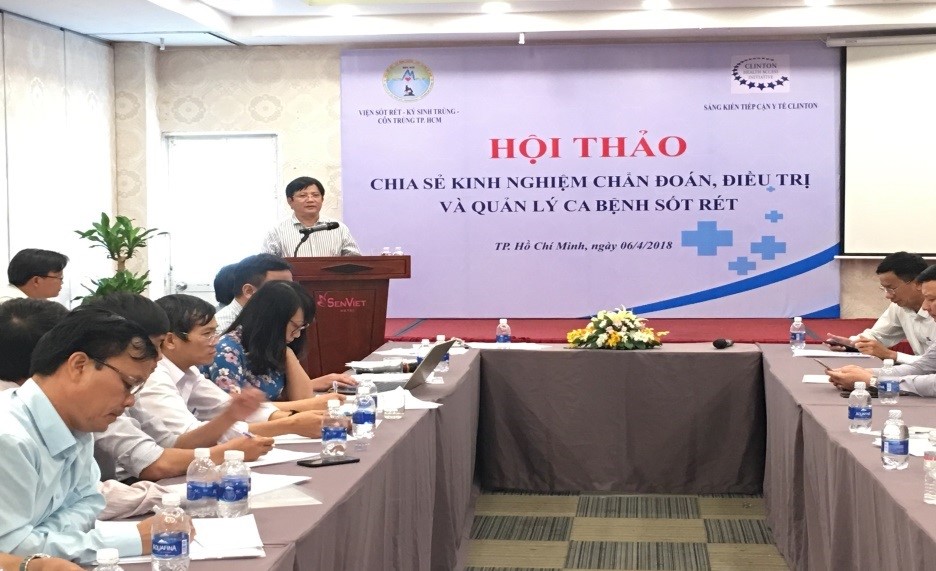 Workshop" sharing experiences on diagnosis, treatment and case management of malaria"
World Health Organization visits and works in Binh Phuoc province
II.2. Research and training activities
From 2006 to 2018, the Institute organized 208 short-term training courses with a total of 7,058 trainees in different specialties: malaria diagnosis and treatment, epidemiology, malaria parasite, helminths testing, dengue fever and preventive measures.
The signing ceremony of training cooperation and scientific research agreement with Ho Chi Minh City University of Science
In addition to short-term training courses, the Institute participates in co-ordinating training with the following universities: City Medical University in Ho Chi Minh City, Nguyen Tat Thanh University, Central Highlands University…, guiding graduate students and postgraduate students to conduct graduation thesis
II.3. International cooperation activities
Actively establishing relationships, cooperation, sign memorandum of agreements on scientific research investment, staff training, aid exploitation with international organizations in accordance with the law.
Formulating and implementing joint venture projects with organizations and individuals in scientific research, application of scientific achievements in preventing parasitic diseases and ec-to parasite
Through malaria prevention programs and projects to research and implement projects in the field of malaria control and parasitic diseases such as: Global fund project for malaria prevention and control, World Health organizations, Oxford university, infectious disease prevention project in the Mekong sub region
Participate in training international course on malaria control management for malaria officials from regional countries. Develop a plan for outbound and inbound delegations as request. Send many delegations of officials to exchange, study, research on malaria prevention and biosafety in countries such as China, the Philippines, and Cambodia... Receive and invite foreign experts and lecturers to study and exchange experience at the Institute in accordance with the law.
The representative of the United States Embassy visits and works with the Institute
Maintain cooperation with organizations, countries in the region and around the world to organize training courses, conferences, scientific seminars and exchange experience in specialized fields.
II.4. Health education communication activities
The Institute regularly cooperates with ministries, branches, localities and related organizations to organize communication programs on the occasion of World Malaria Day (April 25th). Communication to control helminths …to raise public awareness about specialized diseases in the region and effective prevention measures.
Various activities in response to health communication and education activities such as: the meeting to promote social awareness and propaganda to raise people's awareness about the dangers of the disease and prevention measures; parades on the road with propaganda slogans, encourage and attract people's participation to activities.
Launching ceremony in response to the World Malaria Day in 2019
II.5. Library activities - exhibition room
Currently, the library has managed 1,116 books such as: medical books, Vietnamese history and culture books, malaria journals and scientific research projects. Every year, the library regularly updates specialized books and specialized magazines to meet the needs of looking up professional information for the Institute's staff.
Besides, the exhibition room of the Institute is a place to display and store artifacts, images, certificates of merit... It is the place to record the historical stage from the early establishment days of the Institute. Each artifact, the image on display is a vivid story about the contribution of generations.